From no process to sales process 2.0
From no process to🎙️ sales process 2.0
In the next few minutes, I'm going to show you how to start designing sales process 2.0. My goal is to get you as a business owner to switch from working on individual sales success, and instead, focus on 💪 systems of selling.
I had the privilege of sharing this pitch in-person with the cool kids from the Oxytocin Collective, Brisbane, Australia, in February of 2021. Here's a transcript 🎙️ of the session.
more
DEFINITION OF A SALES PROCESS
I'll start by giving you what I think a sale system is. If you understand a sales process or a sales pipeline you're halfway to understanding a sale system.
When I approach designing a sale process, I prefer to build a system because I think that a system is more encompassing. Okay. It's not just about the stages of the sell but all the scripts, all the words and pictures which will be part of it, all the applications which are necessary to serve the words and pictures.
However, in this article, I will refer to 'sales systems' as a sales process for ease of comprehension.
WHAT A SALES PROCESS AIN'T
I giggle every time I hear business owners confuse CRM with a sales system. Yes, it's true that having CRM is perhaps one of the applications that will help you build a sales process.
However, CRM alone will not do anything for you because you are still going to have to sit down and design your customer interactions. You're still gonna have to write the content. You're still going to have to think about how you're going to group these.
CRM will not do that for you. This is elegantly put in an article published by a salesforce.com.
So CRM can help you but it's not in itself a sales process. And so I hope that we're all clear about that before we go too far into it.
💬

"OH, I HAVE A SALES PROCESS BECAUSE I HAVE CRM".

Don't worry if I don't cover all your questions in this article. The book run_frictionless: how to free a founder from a sales role expands on this topic. Point your camera phone here and take a look at the book while you read on.
buy me
I love what I do and when I read this quote by Frederick Taylor it just resonated with me. Designing a sales process embraces Taylor's thinking. The salespeople are very important, but first, we have to build a platform for them to act upon; to do the very best. Taylor's quote is backed up by quite a bit of research in this area.
Frederick W Taylor, Scientific Management, 1911
HIGH-PERFORMING FIRMS HAVE A SALES PROCESS
💡

28% MORE REVENUE

ONE HBR STUDY FOUND THAT BUSINESSES THAT USED SALE SYSTEMS ENJOYED 28% MORE REVENUE THAN THOSE THAT DIDN'T HAVE IT.
💡

HIGH-PERFORMING FIRMS HAVE A SALES PROCESS

ANOTHER STUDY FOUND 50% OF HIGH-PERFORMING ORGANIZATIONS CLAIM OR ADMIT THAT THEY HAVE A STRICT ADHERENCE TO A SALE SYSTEM.

This research is backed up by what we discovered at run_frictionless. When I design a sales process, one of the things that I like to do is research and gather intelligence from competing sales processes.
So let's just say I'm working with a law firm. Well, I want to go and work out what all the other law firms are doing and how they sell on the Internet. We run them through these indicators because we discovered that these are key to sales effectiveness in an online sale system.
Let me go into one of them. I'm going to pick on 'brand'. Brand is made up of three variables of which one of the variables is brand consistency.
Do you talk much about that in your organizations? You know why other people talk about why it's important to be consistent with the brand? Why is it so important to have the same look and feel throughout? How is that gonna make us sell more?
Retail for a very long time has been telling us that the packaging of the product is as important as the product itself because the packaging is a cue to the quality that you can expect.
Remember, the customer hasn't bought from you yet. I think professional services, marketplaces, and software-as-a-service companies neglect and forget that brand consistency is a very important cue to customers making a buying decision.
SALES PROCESS MAKES EVERY SALES PERSON A HERO
Sometime in the late 80s, the Afghan war came to an end and one of the reasons that the Afghan war came to an end was because the Americans had this interesting idea of giving the Afghan warriors Stinger missiles.
There were very cool tools. You didn't need a lot of training. You basically aim the launcher at the Russian Hind copter and pull the trigger.
The Soviets claimed stinger missiles had a 20% strike rate but other studies have shown that some of the warriors had much higher strike rates, depending on how you use the device.
After the first strike against the first Hind helicopter, two years later, the Russians began to pull out of Afghanistan, because the Warriors were armed with these deadly weapons. I think the sale system is a weapon and you should use it against your competitor.

benefits of
a sales
process
BENEFIT #1 - PREDICT SALES
There are a whole bunch of other benefits that come from designing a sales process. For instance, one of the things that I get very interested in is why did we lose a sale, and equally, why did we win the sale. It is difficult to measure success and failure across the organization if every salesperson has a different sales process.
BENEFIT #2 - GATHER DISPARATE LEADS
Another reason for designing a sales process is to track disparate leads coming in from various channels – telephone, online chat, and email. Sales processes are effective at bringing together multiple threads into a single thread that you can monitor and control.
BENEFIT #3 - SERVE CUSTOMERS 24/7
Of course, one of the great benefits of designing a sales process is you can automate a lot of the tasks. An example of automation might be a customer who contacts you through the internet and fills out an online form. Within a few minutes, the customer receives an automated email with an attachment that explains the credentials of your organization.
BENEFIT #4 - AUGMENT THE SALESFORCE
Sales processes are very good at helping you figure out the formula to create a customer. This type of intellectual property is designed into the sales process. It is not held in the mind of a single person. This will in turn reduce your hiring and training costs.
For instance, in a software-as-a-service company, you might want your best and brightest and most experienced people closing a deal in the endgame. Those less experienced people who joined the company a month ago may be better placed in the early game handling online chat where the agent does not need as much experience.
FROM NO PROCESS TO SALES PROCESS 2.0
Let me show you visually what's going on when we shift from one-dot to two-dot zero. Across the board, the volumes in one-dot zero are low compared to two-dot zero. What this means for you is you could take a salesforce and drop them into one-dot zero and watch them fail.
Next, take the same salespeople and drop them into two-dot zero and watch them succeed.
The reason why they have a greater chance of success in two-dot zero is that they have far more 'assists' compared to one-dot zero. These assists are marked in different colors. For example, organizations that have crafted more value propositions (in yellow) have created more ways to start a dialogue with a customer.
Organizations with more customer journeys (in orange) have blue-printed the precise number of interactions required to create a customer. Lastly, organizations with a greater number of digital assets (marked in dark red) like videos and brochures can continue serving even when salespeople are not at their desks.
In short, business owners managing two-dot zero rely less on hiring and training because the sales IP is designed into the sales process.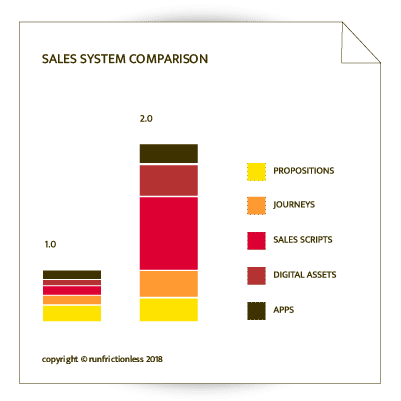 DESIGN CUSTOMER INTERACTIONS
Now, reach for a blank sheet of paper, and with a marker pen, begin to think about what key interactions you need to have with your customer. This activity should be fun. This is where you get to work on your business, not in it.
There are no rules about how you do this. Each of you is a unique person and you bring your own unique way of seeing. You can borrow from my experience at Tokyo Disneyland last weekend or an unboxing experience I had with a piece of hardware. I can think about my experience of signing up with Xero.
If you're serving SMB owners, you're talking in the quantum of 10 to 15 interactions to create a customer. If you're talking to enterprise decision-makers you're serving 25 interactions upwards to 50.
A lot of you will give up on serving enterprise for this reason – you're managing too many customer experiences and it does your head-in. If it takes 25 interactions to close a sale can you really manage that many? Remember, every interaction needs to be branded meticulously.
If you are about to design a set of interactions for a law firm, you want to design experiences that nobody else in this industry (competitor or customer) has ever seen before. That way you create a whole new way of selling, wow your customers, and confuse your competitors.
Over time, industries optimize because competitors copy each other. In a few years from now, every industry will serve the same customer interactions to its customers. You want to borrow experiences from outside the industry and drop them in to stay fresh and relevant.
Put them up on a wall in the office. Move them around and keep thinking and talking about them. Teach each other the purpose of each interaction and how to master them.
GAMIFY THE SALES PROCESS
Once you have designed each customer interaction, it's time to organize the interactions into an early, middle, and endgame. I like to gamify the sales process to make it interesting for the salespeople. Let's face it. Sales funnels are boring. They look complicated and no one wants to talk about them.
By grouping interactions into an early, middle, and endgame, makes it easier to scale the business. In fact, you'll see in a moment that the metaphor of a 'funnel' may be misleading.
Generally, the early game handles first-time interactions with a customer. These are customers who complete an online web form, call in via phone, decide to live chat, or drop an invitation to talk on Twitter.
The middle game is a gestation period, a time when the customers evaluate competitors, including sticking with the 'status quo'. As the name suggests, the middle game sits between the early and the endgame.
The endgame is where the customer has shortlisted a vendor and is preparing to close out their buying decision.
SCORE EACH STAGE OF THE GAME
If you follow my advice and group your interactions you can assign percentages of conversion to each stage. For example, let's say your conversion from early-to-middle game is only 20%. However, the conversion from the middle-to-endgame could be 80%. And the conversion from endgame-to-customer might be 90%.
If managed correctly, your percentage chance of success is supposed to improve as the customer moves from the early game to the endgame. Why do you think your conversions improve over time?
As the customer moves through the early, middle, and endgame, you are qualifying them because you're deciding whether you want to do business with them. During the early game, I regularly throw out customers. There are a bunch of customers that you and I know, in our hearts if we serve them, they become a liability to your organization. This profile receives a note that reads:
UNPACKING THE MIDDLE GAME
The middle game is large and there's a lot of names in there because quite often that's where most of your leads end up. They're customers that haven't made a buying decision and you're trying to squeeze them to the endgame. Maybe you need them to sign a contract or to show you something that indicates that they're ready to make a payment.
Maybe you need them to sign a contract or to show you something that indicates that they're ready to make a payment.
Unpacking the middle game is a problem faced by mature companies operating for three years or more. One of the reasons why customers ghost you in the middle game is because you do not have enough valuable interactions with them. You run out of gas. You deliver the quote – you give them the proposal. Then you never hear from them again.
Has that ever happened to you? You know what I'm talking about. You try to get prospects on the phone and reinvigorate them. You use every dirty trick to unpack the middle game because you and I know that every day that goes by, the value of these leads diminishes.
Typically salespeople's reaction is to begin sending this kind of email.
✍️

DAY ONE
DEAR SALLY, HOW'S THE CAT? JUST WONDERING IF YOU OPEN MY PROPOSAL? LET'S HAVE A CATCH-UP CALL.
✍️

DAY TWO
JUST WONDERING HOW YOU ARE. YOU KNOW WE SHOULD JUST GO AND HAVE A COFFEE TOGETHER AND TALK
✍️

DAY FOUR
"LISTEN THIS IS GETTING SERIOUS NOW. YOU'RE NOT REPLYING TO MY EMAILS. I'M DYING OVER HERE, OKAY.
70% OF YOUR COMPETITION SENDS BEG MAIL
I think we've either received that kind of email or we've sent it. I'll tell you I have sent it and I'll give it a name. It's called beg mail. 70% of your competition sends beg mail to their customers. It's beautiful stuff. Absolutely irrelevant – doesn't help the customer reach the endgame and adds friction to the sales process.
Here's what's actually happening. So we contact the customer at A. We deliver the initial consultation. Then you commence sending beg mail at position C and then you just disappear at D.
You disappear off the customer's radar and they don't care about you anymore, and you don't know what's happened.
So, how do we debunk this? How do we get around this problem?
HOW TO UNPACK THE MIDDLE GAME
When designing a sales process I suggest you deploy a strategy called thickening the middle game. Rather than narrow the number of tracks to a focal point as suggested by a funnel metaphor, thickening the middle game expands the sales process into a shape more akin to a bloated fish.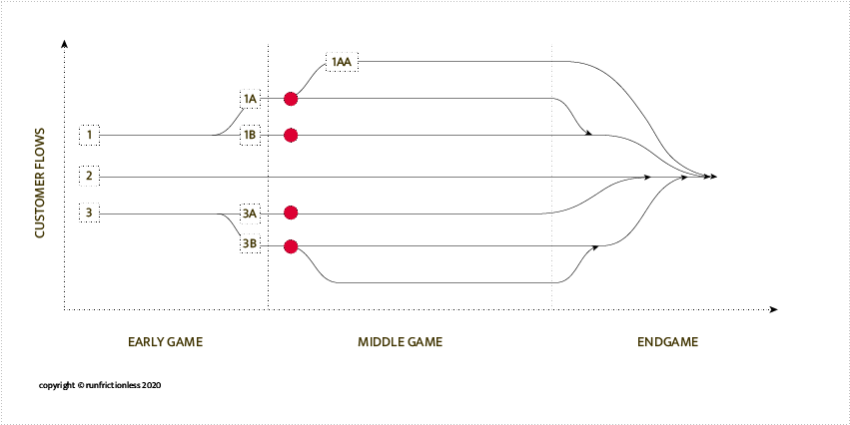 Thickening the middle game works like this. Positions 1, 2, and 3 represent the three customer profiles you serve today. Shortly thereafter, two of the three profiles are triaged. Think of triage like a fork in the road. At the fork, a traveler must choose a path. Each time they choose a path, they are routed to a different experience. Using techniques like conditional logic and smart forms, one can qualify, and continue to qualify a customer, adapting the experience to suit their choices.
The result is seven hyper-personal experiences in the middle game. These tracks are like parallel universes. Customers don't know that their experience is completely different from someone else's experience. They just think it's 'one organization'.
Hyper-personal experiences are key to delivering value mail instead of beg mail. For example, in the positions marked in a red circle you're able to deliver effective proposals or product demonstrations because you understand your customer in a way that competitors do not.
It is imperative you have a thorough knowledge of customer profiles and how to identify variants using data points. Otherwise, your conditional logic will push customer profiles into the wrong flows. The last thing you want to do is win a customer in the early game, only to lose them in the middle by demonstrating how little you know about them.
If you never took the time to understand the customer, you cannot set up a customer correctly from the beginning, and the chances of closing a sale in the endgame are slim.
SUMMING UP
Designing a sales process that discovers who your customer is in the early game will set up a successful middle game and increase your goals in the endgame. A trained salesforce that asks the right questions when you have the customer on the phone or you have them on online chat, will disqualify your competitors in the middle game.
Why? Because 70% of competitors are sending beg mail and generic proposals to your customers.
You can start designing your sales process right now. You only need a piece of paper and a marker pen. If you would like me to give you a hand, contact me. Whether you're a consulting company or a SaaS internet startup, you can design a sales process that offers a unique experience for your customer.
Brian McGlennon is the evangelist at the Oxytocin Collaborative. The Collaborative came about to take people's LinkedIn connections to the next level of engagement. It is a place where people can freely network, exchange ideas, find a business partner or even find new business through referral. It is a free space and will remain so. For it to thrive it requires free engagement and a giver mentality!